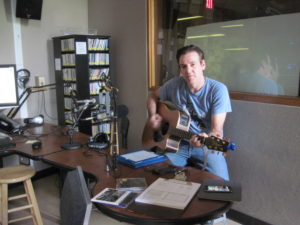 Grounded in the classic rock sounds of his childhood, informed by the pop (non)sensibilities of the 80's when he began playing, and set free by the explosion of diversity in music over the past 15 years, Laurence was influenced by all, but not bound to any.
Laurence has spent the much of the past decade writing and recording music and performing his compositions in the NY/NJ/PA area. His most recent live shows are described as an entire band in an acoustic guitar. Samples, distortion, wah wah and live created loops all play an important part in creating sounds that aren't heard from most singer / songwriters. Songs are signed with his power strum style, and he rarely plays a song the same way twice. Drawn from a library of originals and unique takes of classic to modern rock cover songs,  his shows hit you head on with a sometimes sensitive, somewhat psychedelic, and always a steady driving experience.
Born in New York, raised and currently living in New Jersey, Laurence Hart was reared in a music rich environment. He fell in love with recorded music at the age of 8. By the time he was 12, he was writing songs and recording them. In college at Rutgers University, he played lead guitar for a few bands before settling in with Mike Dalton and the Push. Being the hottest band on the Jersey shore had it perks, such as  selling out the Stone Pony and the Shore Clubs. After experimenting with an acoustic trio in which he was joined by brother Bob Hart (Spiraling, Clare and the Reasons) and Joaquin Perez on everything percussive, Laurence stepped out with his own effort, Casaluna. They recorded a self-titled debut in 1995.
Greenwich Village followed,  where Laurence played as a lead guitarist in stints with Casaluna, Jim Toscano, and Greg Aulden and the Pride guaranteed if you were in the West Village on any given weekend, you heard him. Always a fan of roots music, he then joined forces with Mike Flynn (Night Train, Citizens Band Radio) and they performed as an acoustic jam duo, and he credits this experience as the impetus for writing again.
Recent events around the world and the difficult economic times have made playing charity events and fund-raising benefits an important part of the musical equation for Laurence. He has joined with friends and musicians to bring assistance to local community food-banks and child care and development centers.
His most recent effort Closed Station Platform reflects his admiration and respect for the acoustic guitar, and he uses it as a basis for every song on the album. Layered with retro sounds,  he has created an interesting blend of  thoughtful lyrics and infectious melodies that induces nostalgic flashbacks of a time before music was downloaded.